Coming from beginning of android google has been naming its mobile OS versions with reference to the desserts such as N for Nougat, O for Oreo, etc. Following the trend google is going to name its next iteration of android i.e. android 9 or in another word Android P as PIE.
The new android update is coming with an overhaul regarding notifications, recent apps, navigation buttons, etc. with more colorful interface and collection of movement animations.
The new operating system is rolled out to the recent google pixel smartphones and essential phones with one plus on the line to provide and OTA update. Others will have to wait for their manufacture to deliver the update.
Here are some of the notable changes on Android PIE.
Gesture Navigation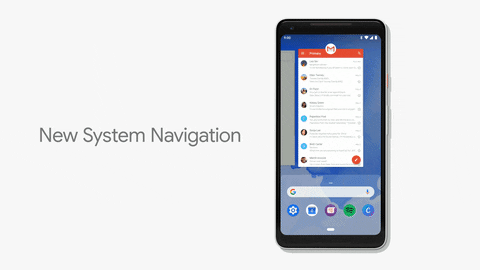 The time has gone where user had to tap on multiple hardware or software buttons to navigate between apps. Now it's the era of gestures. Climbing up the gesture era, the new android introduces a gesture based navigation button and it moves. Though it occupies the same location of previous navigation buttons, the navigation style has changed.
Tap it to go home, flick it up to see recently used apps, swipe upwards twice or pull it up further to get to the app drawer, or hold it down to activate Google Assistant. You can also drag it to the right to switch to the last app (similar to the double tap of the overview button) or drag and hold to cycle through recently used apps.
Rotation Suggestions
Have you been frustrated by the rotation feature of android which works but in the opposite way you wanted to? The new android provides a feature called rotation suggestion which helps to relief your frustration. It is a small feature update but can be a relief to most android users.
Now when rotation lock is turned-on on your phone, and you intentionally rotate your phone, a little button appears on your notification bar by tapping which you can enter from portrait to landscape mode or vice versa.
Adaptive Battery and Brightness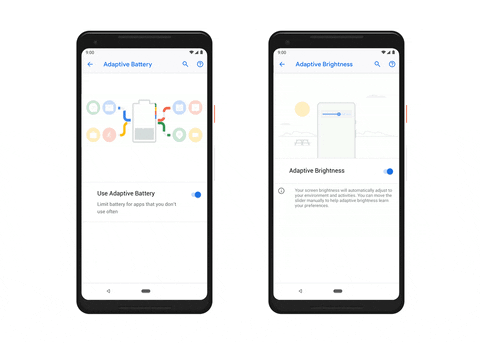 Adaptive battery is the technology developed by Alphabet's AI-Outfit DeepMind which analyses the battery uses pattern and redirects the battery power to those apps that you require on that time frame. That is, the phone learns from your day to day uses of the apps and predicts what apps are you going to use on that particular time frame and redirects power to that particular app list.
Similar phenomenon occurs regarding the adaptive brightness where the AI will learn about your brightness habits and adjust your screen brightness according to it.
Other updates include time on the left side of the screen, official support for the notch, integration of smart reply feature on more apps, App actions – an AI function which predicts what app you are going to use at that time and suggest apps according to it, iOS like text selection feature and privacy related actions.